Binary Blogger Made The Feedspot Top 50 Cyber Security Blogs
2 min read
​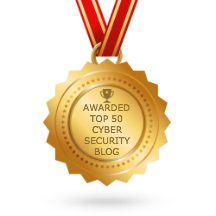 Over the summer I kicked up the Binary Blogger content and it's starting to take off. I was notified today that my blog, Binary Blogger, reached the Feedspot Top 50 Cyber Security Blog list. That's pretty weird to see this blog, that started as a side hobby, be in the same list as Krebs on Security, Bruce Schneier, Graham Cluley, Troy Hunt and many other great security resources and very smart people. This only motivates me now to step up the game and start to craft and tailor the security messaging even more.
I always tried to focus my security work toward simplicity, awareness and practicality. Security is hard, probably the most challenging job with the least amount of fanfare when you are successful. It's an inverse relationship to the rest of the business world. Most people recognize you as a security team when things fail, rarely when you are successful. Successful security keeps the battles quiet, only when something fails or slips though is when you are recognized but not in a positive light. That's the life of a security team.
I created and stuck with my persona of the Binary Blogger to help with that. Get the security awareness beyond the security pros, they already know what they need to do. I firmly believe when you get all the rest of the non-security pros to understand a bit more about security and why things are the way they are you can indirectly increase your security presence within an organization. In order to do that the topics, although complicated, need to be understandable.
Binary Blogger isn't going away any time soon. Now that it has made its mark the bar has been raised, at least in my eyes. As a supplement I also created and have been doing the Security In Five podcast for the last three months to get more content and messaging out in different mediums. Since the episodes are short, roughly five minutes each, I release new episodes every work day and cover a far wider range of topics than I could through writing.
Throughout the podcast learning process I think I have figured out a routine schedule to balance the blog and podcast. The podcast is daily and I am trying to commit to a deeper blog post one to two times a week. Maybe in the future a monthly newsletter. We'll see and it's ultimately up to the readers and listeners. No sense doing it if it provides no value to anyone.
As long as one person makes a change that makes the world a little more secure, protects identities from being stolen, saves money from breach costs then I will keep doing it.
Thank you to all those that do read and listen.
Be aware, be safe.
End of Line.
Binary Blogger has spent 20 years in the Information Security space currently providing security solutions and evangelism to clients. From early web application programming, system administration, senior management to enterprise consulting I provide practical security analysis and solutions to help companies and individuals figure out HOW to be secure every day.
Subscribe
Facebook Page
Follow Me On Twitter
contactme@binaryblogger.com