BinaryBlogger.com Voted One Of The Top 40 Cyber Security News Sites
2 min read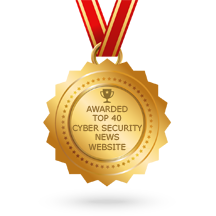 Wow. This blog is starting off the year with a bang. I received notice this morning that the kind folks over at Feedspot selected BinaryBlogger.com as one of the Top 40 Cyber Security News Sites. Last year I slipped into the Top 50 at number 50 but since I cranked up my blogging and podcast I have moved up to number 32. That is all because of you. A big thank you to those that take the time to read this blog and listen to the podcast.
It also add fuel to the fire of motivation to keep going, expand and grow. So many ideas that I want to do but getting it right is important too. Stick to security, stick to what's important but also keeping it interesting. That's the balance. I guess up to today it's working.
Enough about the recognition, that's a bonus, what's the most important aspect of all this is someone, somewhere improved their security posture. They tightened up their personal accounts, re-structured their corporate security strategy or found a tool or tip that made security stronger.
Over the years I have found that the pathway to a successful security program is open communication, true transparency and end to end cooperation. That's why I expanded my internal facing evangelism and work to the public side. There's nothing proprietary or secret about protecting an asset or data when you talk about it at a framework level. Everyone benefits and the corporate world would benefit a great deal from more 'crowdsourcing' security efforts than every company trying to do it alone. There are armies of hackers hitting each one of us yet most are standing alone on the hill.
Just think if those being attacked came together and banded an offensive or collaborative defensive front.
2018 will be a fun year and I am looking forward to reach for the Top 10 by 2019.
End of line.
Binary Blogger has spent 20 years in the Information Security space currently providing security solutions and evangelism to clients. From early web application programming, system administration, senior management to enterprise consulting I provide practical security analysis and solutions to help companies and individuals figure out HOW to be secure every day.
Subscribe
Facebook Page
Follow Me On Twitter
contactme@binaryblogger.com